From ABC Belarus and our anarchist comrades in Germany. With Ukraine so much in the news, this is a timely interview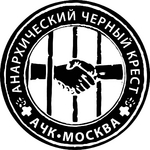 about revolt and the status of anarchism in Belarus and right next door, in  Ukraine.  This interview provides an alternative perspective from the asinine saber rattling coming out of Washington DC and American sensationalist media. (The link is safe; I check before posting them here.) Stay with it, only the first few words are in German – all the rest is in English:
we would like to present you an interview with the Anarchist Radio Berlin (Anarchistisches Radio Berlin: aradio.blogsport.de) made with a member of the Anarchist Black Cross (ABC) in Belarus about the anarchist prisoners in the country, the situation in Belarus and the neighbouring countries and the planned info tour through parts of Europe starting in April 2014. This audio has been re-recorded with a different voice in order to protect the identity of the original speaker. You'll find the audio (to listen online or download in different sizes) here: http://aradio.blogsport.de/2014/03/31/a-radio-auf-englisch-interview-with-abc-belarus-2014/ The length is: 9:25 min. Enjoy! And please feel free to share!
Filed under: Uncategorized | Tagged: Anarchist Radio Berlin | Leave a comment »